What is information security?
Information security, which is often referred to as InfoSec, is a completely different practice from Cyber security as it concerns itself with the protection of information through the mitigation and handling of potential risks. Information security and information risk management relate to both information that is digitally stored and physically stored in a location.
Normally, a key part of this practice is the prevention of the probability that unauthorized personnel will get access to data that are outside of their jurisdiction. The inappropriate handling of the data in question is also a breach of information security. Unlawful use of data could include disclosing, altering, deleting, corrupting, and illicitly copying or recording the data that were supposed to be securely stored.
Information security is all about the actions that can be taken to protect the information in all of the forms that it is stored in, whether tangible or intangible. The risk management procedures for dealing with information security include the identification of potential threats and vulnerabilities in the security system set in place. Assessing the risks of having the data in question being unlawfully used, as well as the risks in the existing procedures and systems that protect the information handled by the company. Ideas for mitigation of cases of unlawful data use, and legal preparations for such cases.
Principles of information security
Information security is based on three key principles: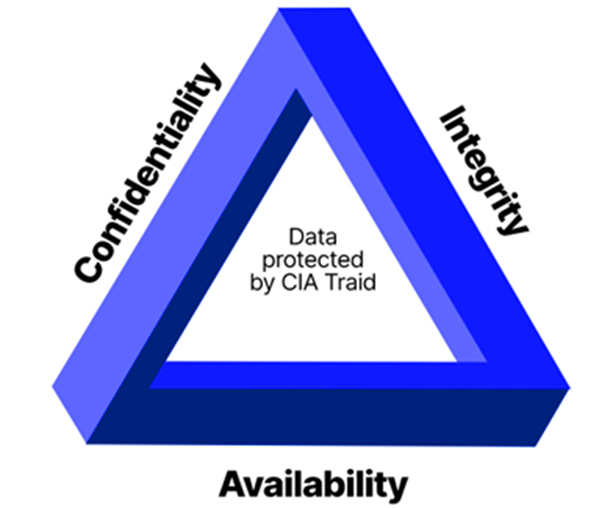 1. Confidentiality
The idea is that all the data stored are only meant to be accessed by specifically selected people and thus the information contained within them is private and not to be shared.
2. Integrity
The principle is that all those who handle the data present within a company must do so with integrity and should not abuse their authorized access to data for their own benefit or to unlawfully use any of the data in the system.
3. Availability
That data needs to be reasonably available and it should be easily accessible by authorized personnel but not by third parties.
How to develop information security policies?
Developing information security policies is something that many companies either do on their own or hire specialized personnel in the form of an information security consultant or information security specialist. Normally, in cases where a vast amount of information is meant to be correctly stored and secured a specialized professional can help a company truly find and mitigate all the risks that may be present.
1. Define the system
Assessing what needs to be protected and the reasons why it needs to be protected is the first key step to either developing or applying the correct information security system. If a system is already in place identifying it and seeing its key benefits and faults can be crucial for the creation of corrective actions that can ensure further security.
Characterizing system operation and sorting through which information should be accessible and to who for the proper operation of the company is another key element of defining the information security system that needs to be put in place.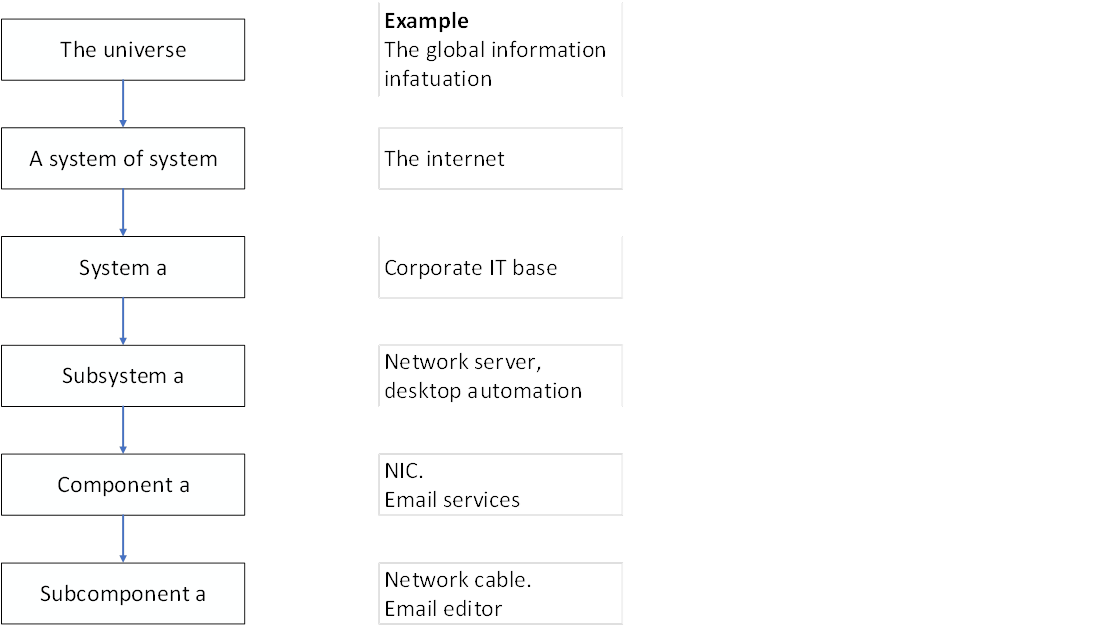 Standard Hierarchy Used in System Definition
2. Perform Vulnerability and Threat Analyses
As knowing the risks and how to tackle them is probably the most important step to having in place proper information security systems, this is also the step where you may find that an information security consultant may be the most useful. With their expert knowledge, they will be able to help you not only identify potential threats and vulnerabilities in your current system but can also help you with categorizing them based on the severity and type of threat that they pose. Evaluation of Transaction Paths, Critical Threat Zones, and Risk Exposure for the information that is in store will also help you understand how the systems already in place need to be altered and what new systems should be created to mitigate and reduce all threats.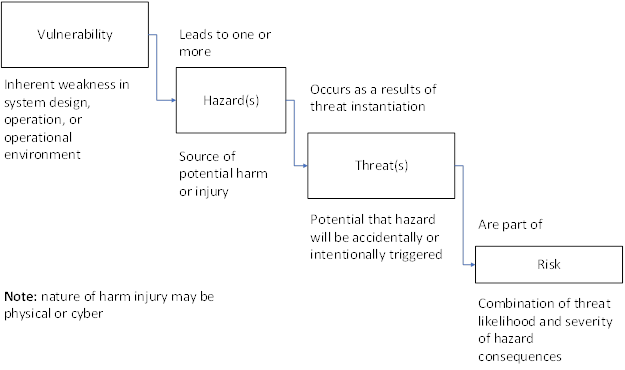 Interaction Between Vulnerabilities, Hazards, Threats, and Risk
3. Implement Threat Control Measures
Much like an information security consultant can be necessary for determining the threats, an information security specialist and consultant can help you implement new procedures, systems, and measures to reduce the threats posed. They will help you determine the type and extent of protection needed while evaluating controllability, operational procedures, and in-service considerations to ensure that all processes work for your business.
They will also deal with contingency planning and disaster recovery, which can be essential in the cases of a security breach. They will help you consider the use of perception management as well as, select & implement IA (Information Assurance) design features and techniques so as to best protect your business.

Chronology of Threat Control Measures
4. Verify Effectiveness of Threat Control Measures
Once the selected IA Verification techniques have been employed, they will reassess the systems to determine the Residual Risk Exposure. They will also help you understand how to monitor Ongoing Risk Exposure as well as determine what your responses should be to increase the survivability and sustainability of your systems.
5. Conduct Accident/Incident Investigations
In case of information security breaches, you will need to analyze the cause, extent, and consequences of the breach as well as the extent to which your systems were compromised. You will need to initiate the Short-Term Recovery Mechanisms that were put in place, and make a report of the incident. Long-Term Remedial Measures will also need to be deployed and with your legal team, you will need to evaluate possible legal cases that may be made against your company.
Application of Blockchain in Information Security
No information security system can be deemed 100% secure because what is secure today may not be secure tomorrow given the lucrative nature of cybercrime and attackers' ingenuity to seek new and advanced methods of attack. Blockchain has popularly grown into a promising mitigation technology for cybersecurity. The decentralized and consensus-driven nature of blockchain makes it naturally resilient to attacks.
Blockchain helps to ensure all information security policies. Blockchain technology automates data storage, provides data integrity, and is transparent.
Use Cases of Blockchain for Information Security
Below are some of the potential use cases of blockchain implementation for information security.
By decentralizing Domain Name System (DNS) entries, blockchain technology can help prevent Distributed Denial of Service (DDoS) attacks. In decentralized systems a single node failure doesn't affect the entire network.
By shifting DNS to blockchain, resources will be spread across multiple nodes, making it infeasible for attackers to control the database.
Human error is the leading cause of data breaches blockchain eliminates that by automating data storage.
Blockchain can be utilized to protect data from unauthorized access while it is in transit, by using encryption. This device-to-device encryption to secure communication, key management techniques, and authentication is also a potential use case to maintain cybersecurity in IOT systems.
The Public Key Infrastructure (PKI) in Blockchain maintains authentication during data transfers.
Blockchain secures private messaging by forming a unified API framework to enable cross-messenger communication capabilities.
Blockchain technology could go a long way in fighting cybersecurity threats and helps ensure that the CIA triads of information security are being followed. The complexity of blockchain implementation and difficulty to find the relevant expertise because of blockchain being a relatively new technology can however lead to difficulties.
MicroAgility blockchain consulting services can help you leverage the full potential of blockchain. Blockchain consulting is also a more cost-effective option compared to hiring a full in-house team. Our blockchain consultants have experience working on all major platforms including Etherium which emerged as a platform for a variety of use cases like smart contracts, non-fungible tokens (NFTs), decentralized financing, and distributed software, to name a few. By implementing decentralized finance into your business model, you can enjoy improved transparency and better security, all while ridding your company of outdated processes and so on. You should hire blockchain consultants to analyze your business infrastructure to identify challenges and opportunities that blockchain technology can address.
Conclusion
Fulfilling information security principles and compliance is an ongoing process. Taking a few steps occasionally may give you a false sense of security without actually achieving data security for your organization.
All security information procedures and systems must be validated by third-party independent providers and specialists who can vouch for your measures and help improve your IT security strategy execution. A MicroAgility information security can work with project-development teams to perform a risk analysis of new systems by balancing the needs of the business with the threats that stem from opening up access to data. They can also assist with the management of new information that could compromise the business if accessed by unauthorized users. More importantly, they can help you with bringing the information security project from inception to implementation.